Share
(Alinda: Part 6 – Culminating activities of our Year 8 Medieval Europe GI classes)
Medieval Day
Last Friday we had a whole day of activities for all of Year 8 in the School Hall. Students had decorated the walls and added to this during the morning with the work they produced.
First a 'Forum of Experts' were interviewed by one of the teachers who happened to be the Head of Humanities who has a great deal of historical knowledge.
Following this the students organized themselves into groups of 10 or 11 and a teacher supervised each group with an activity that led into a brief oral assessment task. The students had to consider a headline that would point others to their specialty area and when this was finished the teachers led students to talk about their headline and how this fitted into their knowledge area and then the whole topic.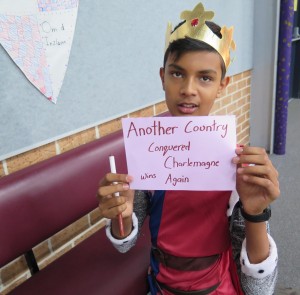 After recess games were organized with due care to hygiene and safety!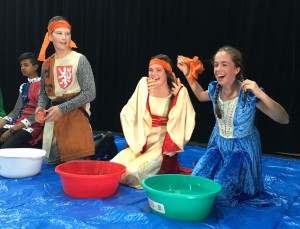 Apple bobbing was very popular but as each round needed to have the bowls cleaned and refilled this activity  was interspersed with rounds of jousting!
Lunch was inside on picnic rugs with food to share and some had cooked appropriate food.
A visiting historical troupe came after lunch with medieval armour and weapons. After a demonstration and talk the students – and teachers – tried on armour and held weapons. A few students found themselves in the stocks and others found out how uncomfortable and heavy chain armour really is!
Completing the unit was just the beginning of the next spiral of action research. On Friday at the Medieval day (culminating activity) one of the teachers told me she had a list of things to improve on this Medieval Day for next year and the three surveys I took at different stages also play a part in evaluating  and preparing for next year.
Five Minutes of images and video:
(Alinda: Part 4 – Continuing the 'adventures' of our Year 8 Medieval Europe GI classes)
Step 7 Share
This is the part of Guided Inquiry I love the most. At best it is a 'Goose Bumps' experience and that is what happened in one of the Year 8 classes. The amount of knowledge some students have at the end of their research is unbelievable.
Rather than have the students prepare a "Death by PowerPoint" experience we wanted to see what they actually knew and could speak about without special preparation.
Two of the four classes have now held their 'Share' Seminar and every student contributed in some way to the discussion. The room was arranged in a circle and the teacher presided, assisting in the flow of discussion. Some amazing experts were discovered and most of the topic areas were covered either briefly or in great depth. This was part of their assessment but, after the discussion got going, nerves were forgotten and some real personalities and passions were exhibited. I have edited what could have been a lengthy video into a few segments for sharing here.
This girl was very knowledgeable about the punishments metered out to women in the Middle Ages!
This young man is the ultimate expert on armour and weapons of the Middle Ages.
For anyone interested, this clip shows Mr Chris Main setting up the Seminar – requirements and protocols.
Classes are then at the final 'Evaluate' step and this involves Peer review as well as the final Survey Monkey questionnaire with a separate one completed by the teachers as well. Stay tuned…
(Alinda: Part 3 – Continuing the 'adventures' of our Year 8 Medieval Europe GI classes)
Surely four collaboratively planned and taught Year 8 classes doing Guided Inquiry at once is a bit too much? Well… it has been manageable but some aspects of my other roles have been wanting in fine detail and a 'catch-up' will have to take place soon!
I did, however manage to also take three teams to the Sydney heat of the Australian Kids Lit Quiz last week where the students performed very well – but my Library Assistant, who actually trained the teams, told me that my "Children's Literature" knowledge was slipping very badly and I really must read more books. She gave me a selected pile of books and one has been read already!
Now – back to Guided Inquiry!
The students were given their assessment task which includes a class component and formal assessment.
Formal Component:
Class Component: 

They are now at Step 5: Gather and Step 6: Create
The students have been busily planning their reports for a lesson or two and, even at this stage, as the class teacher and I sit beside students and discuss their work, some questions are 'tweaked' to make the report easier to write. I am always intrigued by how thoroughly the students know their topic area by this stage and really 'own' their work.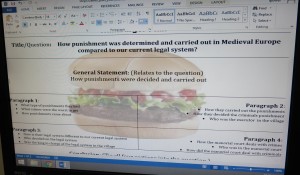 When writing up the reports from their plans it is interesting to see how many students know their topic so well that they hardly need to refer to sources. Plagiarism is at an all time low because of this.
When students were booked into a computer lab and also had their BYOD with them they became very resourceful and used both!
Of course the class teacher also keeps reminding students of report writing strategies and timely reminders via Edmodo posts
I made a 'Small Group' for students to post up their Big Questions into Edmodo so that I could gather them easily. While they are busily working on reports I will be sorting them into topic areas ready to allocate each student a peer for peer evaluation of a report on a topic area quite different to their own. This Peer Review will take place in a combined Step 7/8: Share/Evaluate.
The Due date was yesterday and there they all were – on time and complete!
Now for the best part!
Step 7 Share: Today the first class 'Shared' their learning and knowledge in a class 'circle'. It was amazing. The teacher said to me after the lesson of 50 minutes, that it could have easily gone on for another whole lesson. It was an amazing display of knowledge, intelligent questions specifically asked to individual 'experts' and all captured on video with permissions to use online.
Now I just have to edit it all and I will share more here! Stay tuned…