(Alinda: Part 3 – Continuing the 'adventures' of our Year 8 Medieval Europe GI classes)
Surely four collaboratively planned and taught Year 8 classes doing Guided Inquiry at once is a bit too much? Well… it has been manageable but some aspects of my other roles have been wanting in fine detail and a 'catch-up' will have to take place soon!
I did, however manage to also take three teams to the Sydney heat of the Australian Kids Lit Quiz last week where the students performed very well – but my Library Assistant, who actually trained the teams, told me that my "Children's Literature" knowledge was slipping very badly and I really must read more books. She gave me a selected pile of books and one has been read already!
Now – back to Guided Inquiry!
The students were given their assessment task which includes a class component and formal assessment.
Formal Component:
Class Component: 

They are now at Step 5: Gather and Step 6: Create
The students have been busily planning their reports for a lesson or two and, even at this stage, as the class teacher and I sit beside students and discuss their work, some questions are 'tweaked' to make the report easier to write. I am always intrigued by how thoroughly the students know their topic area by this stage and really 'own' their work.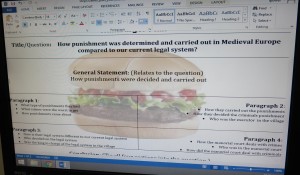 When writing up the reports from their plans it is interesting to see how many students know their topic so well that they hardly need to refer to sources. Plagiarism is at an all time low because of this.
When students were booked into a computer lab and also had their BYOD with them they became very resourceful and used both!
Of course the class teacher also keeps reminding students of report writing strategies and timely reminders via Edmodo posts
I made a 'Small Group' for students to post up their Big Questions into Edmodo so that I could gather them easily. While they are busily working on reports I will be sorting them into topic areas ready to allocate each student a peer for peer evaluation of a report on a topic area quite different to their own. This Peer Review will take place in a combined Step 7/8: Share/Evaluate.
The Due date was yesterday and there they all were – on time and complete!
Now for the best part!
Step 7 Share: Today the first class 'Shared' their learning and knowledge in a class 'circle'. It was amazing. The teacher said to me after the lesson of 50 minutes, that it could have easily gone on for another whole lesson. It was an amazing display of knowledge, intelligent questions specifically asked to individual 'experts' and all captured on video with permissions to use online.
Now I just have to edit it all and I will share more here! Stay tuned…